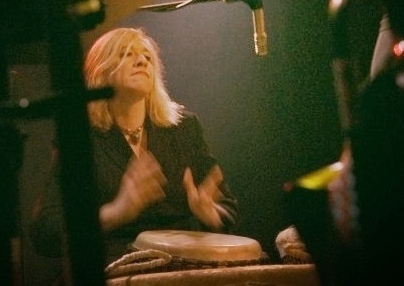 WHERE YOU GO is a song for those insisting on compassion and inclusion in our society. This zipper-style folk song of radical compassion and love, based on the Book of Ruth, is being sung in churches of POC, marches, protests, weddings, synagogues and gatherings across the world.
Shoshana Jedwab steps away from her drum to sing "I Remember" — her deep and magical sacred compositions.
As a child, Shoshana Jedwab would drum on parked cars, plates, tables, books and other people's bodies. Hailing from a family of rabbis and community leaders decimated by the Holocaust, Shoshana became a prize winning Jewish Studies Day School teacher, and the Jewish Life Coordinator at the A.J. Heschel Middle School in NYC. Shoshana Jedwab holds down the beat as ritual drummer and worship leader for cutting edge communities, including Romemu, LabShul, Kohenet, Kirtan Rabbi and the Isabella Freedman Jewish Retreat Center.
In her debut album, Shoshana has stepped away from her drum to sing her original compositions, inspired by the ceremonies and communities at which she drums.
Born from Shoshana Jedwab's intuitive musical work in community and her immersion in sacred literature, these seven songs are reflections on ancient and medieval Hebrew poets, wise women, Hassidic masters, Sufi mystics, and contemporary teachers.
Shoshana Jedwab's global sacred Jewish music has been described as "heart-opening, hip-shaking, breathtaking, spirit music. Shoshana Jedwab was included in Jewish Rock Radio's playlist of Jewish Women Who Rock the Worship World!
Each song explores a unique landscape that taps simultaneously into the Hebrew and World soul. Co-produced in New York and northern Israel's Galilee region, by Afro-ethnomusicologist Neva Wartell and Klezska founder and band-leader Glenn Tamir, with stellar contributions by Eyal Luman and Mark Ettinger. "I Remember" is Shoshana Jedwab's first studio album.